NCWIT Named CIS NEXT Award Grand Prize Winner for Recruiting and Retaining Undergraduate Women
Penn Engineering's Department of Computer and Information Science (CIS) has been named the winner of the 2020 NEXT Grand Prize Award by the National Center for Women and Information Technology (NCWIT). The NEXT Awards honor organizations that have, through collaboration with NCWIT's Extension Services, demonstrated excellence in recruiting and retaining women in computing education.
Grand Prize recipients receive up to $100,000 for a strong commitment to and proven results in recruiting and retaining women into undergraduate computing programs. The University of Pennsylvania, Department of Computer and Information Science utilizes
multiple strategies aligned with the NCWIT Undergraduate Systemic Change Model to influence its recruitment and retention of women. Included in those strategies are intro classes for students with or without prior programming experience; multiple major paths through either engineering or arts and sciences; strong relationships with teachers and counselors at more than 1,000 area high schools; faculty and teaching assistants' engagement in conversations about active learning and inclusion; and intentional partnerships with the Office of Admissions to convey a commitment to gender parity. Also, strategies and policies in curriculum, pedagogy, and student support have significantly reduced women's attrition in the major from 13.6 percent in 2006 to 6.1 percent in 2017.
NCWIT's Undergraduate Systemic Change Model advocates a multi-pronged approach, so that the elements of systemic reform including recruiting, curriculum, pedagogy, evaluation and tracking, student support and institutional policies will work together to attract and retain a diverse student body. NCWIT ES-UP provided CIS with consultation, training and resources to implement this model.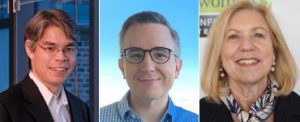 The Collaborative Team includes Dr. Zachary Ives, Dr. Christian Murphy, and Dr. Rita Powell.
Read More