<! BODY bgcolor="#FFEFDB"> <! AntiqueWhite1> <! BODY background="/images/yweave.gif">
Logic for Computer Science:
Foundations of Automatic Theorem Proving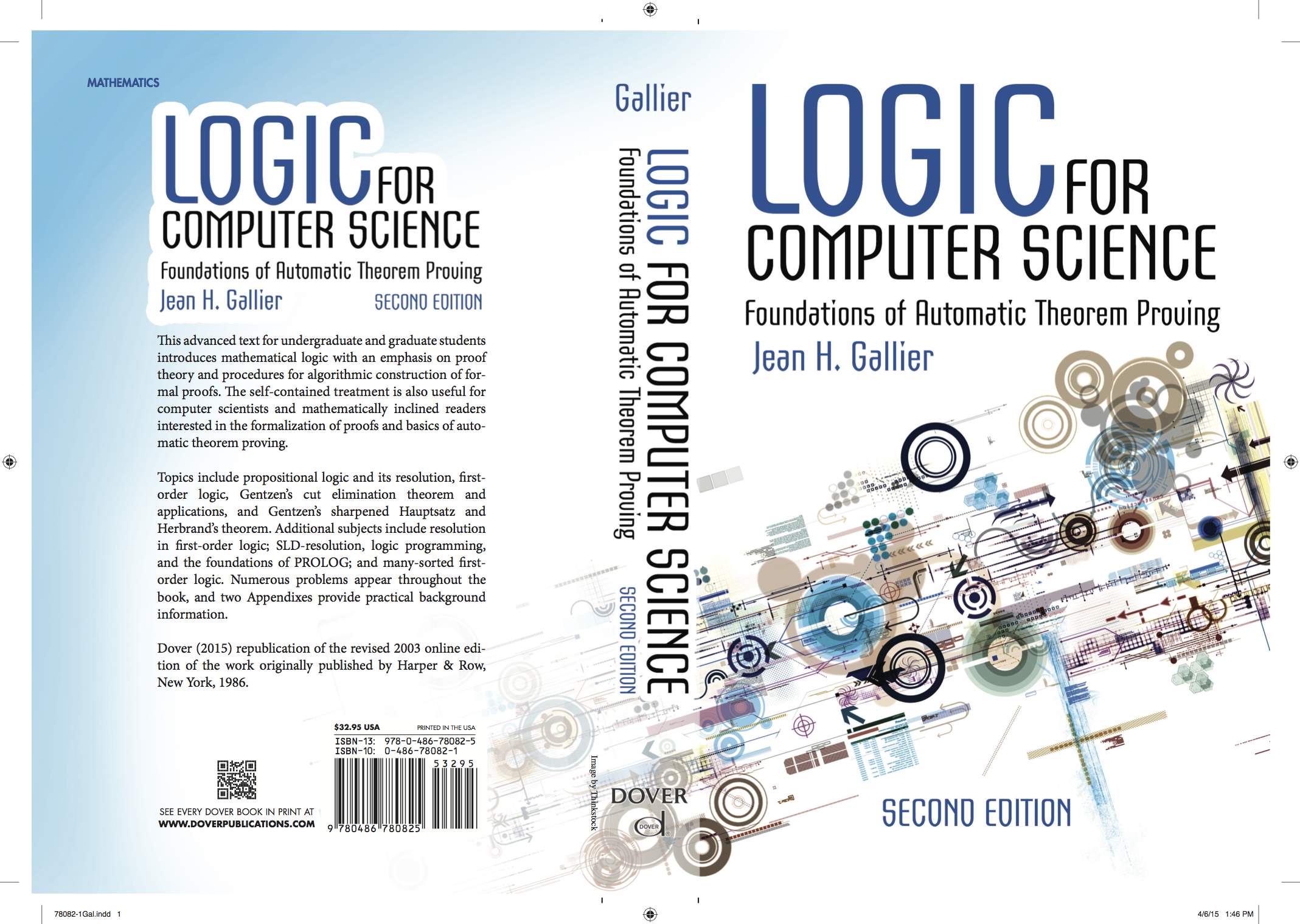 Jean Gallier
A corrected version of the original Wiley edition (pp. 511, 1986) is going to be published by Dover in 2015.
---

REVISED DOVER EDITION (2015)
Terms and Conditions
By downloading these files you are agreeing to the following conditions of use: Copyright 2015 by Jean Gallier. This material may be reproduced for any educational purpose, multiple copies may be made for classes, etc. Charges, if any, for reproduced copies must be no more than enough to recover reasonable costs of reproduction. Reproduction for commercial purposes is prohibited. The cover page, which contains these terms and conditions, must be included in all distributed copies. It is not permitted to post this book for downloading in any other web location, though links to this page may be freely given.
Preface, Table of Contents (pdf)
---
ERRATA TO 1985 EDITION
---
OTHER LOGIC PAPERS OF INTEREST
Snyder, W. and Gallier, J. Higher-Order Unification Revisited: Complete Sets of Transformations.
Journal of Symbolic Computation, 8(5), 101--140 (1989).
(ps) (pdf)

Snyder, W. and Gallier, J. Complete Sets of Transformations for General E-Unification.
Theoretical Computer Science, 67, 203-260 (1989).
Part I (ps), (pdf), Part II (ps), (pdf)
Back to Gallier's books (complete list)
Back to Gallier Homepage
---
Jean Gallier
2003-6-6